Red Hot Chili Peppers: By The Way vs Lady Gaga: Paparazzi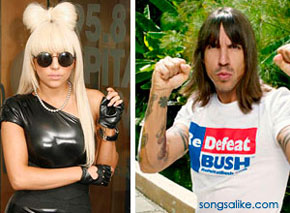 Lady Gaga, whose name is inspired by Radio Gaga by Queen in case you were wondering, has moved pretty swiftly from dance clubs in New York to the mainstream. Apparently she's also the creative director for Polaroid, which seems like a snub towards Andre 3000. Anyway, Paparazzi was the fourth single (in the U.S.) from 2008's The Fame. It follows the Gaga formula of a dark, ominous verse mixed with a very hooky, grandiose chorus. In this case, the chorus is pretty similar to the chorus of By The Way, the title track to the Red Hot Chili Pepper's 2005 album. By The Way actually has a similar formula with it's frantic, almost demonic sounding verse, leading into the pure cane sugar chorus. Does this make Anthony Kiedis mad? He could always start ripping off her fashion sense.
Take a listen to each chorus side by side:
[audio:../wp-content/uploads/2010/02/gaga-pepper.mp3]
The song's lyrics tell a vague story of a girl named Dani. The concept developed starting with Californication, in which the lyrics refer to an unnamed "Teenage bride with a baby inside". This story was continued in By the Way, and concluded in Dani California.