Ryan Adams Redefines Lackluster in Another Minneapolis Meltdown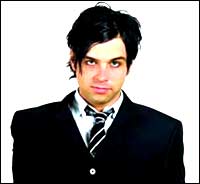 Ryan Adams is arguably one of the most talented singer/songwriters of his generation, and Easy Tiger will be at the top of my best albums of 2007 list. I guess with high expectations comes the greater probability of disappointment. He is prolific, averaging an album per year, with a wealth of unreleased material on the shelf that is finally being released as a boxed set. That being said, he has difficulties performing, especially in Minnesota. I think there's a pill for that right?
This particular show took place on September 24th, 2007, at the State Theater in Minneapolis. Ryan's main issues were the sound engineer and the monitors. It always seems to be the monitors. He was walking over to the soundboard after what seemed like every song, and became increasingly agitated throughout the show. He even took matters into his own hands as he moved two monitors, his guitar pedals, and the location of the microphone. The lighting was a cold, dark blue. The setlist was as stagnant as the stage presence. Goodnight Rose had moments of brilliance and was the highlight, and the first single, Two, was a strong opener. Night Birds, from the disappointing 29, was a poor choice. Dear Chicago was a great choice, but an uninspired, apathetic performance.
Another factor in this concert was the audience. It was a constant state of yelling and shouting at the stage. This was beyond the typical song request activity. It was almost like mass hysteria. One person screams, so another person screams louder, almost to try and top the other person. Ryan addressed this towards the end of the show, saying that he can't understand anything people are shouting, and that it feels like he's amongst cavemen. He made a valid point here. The audience was horrible, and I think it worsened the situation.
The setlist was as follows:
1. Two
2. Goodnight Rose
3. Beautiful Sorta
4. Rescue Blues
5. Let it Ride
6. Dear Chicago
7. Peaceful Valley
8. Nightbirds
9. Dear John
10. Wild Flowers
*He started playing I See Monsters and scrapped it for…
11. Shakedown on 9th Street
12. Cold Roses
13. The End
14. Please Do Not Let Me Go
15. A Kiss Before I Go
I have seen great shows from Mr. Adams, like the 2001 show at First Avenue. This was the Gold tour and he was in top form, and good spirits, possibly because he was still partaking in spirits at this time. In fact, he bought me a beer, along with the front half of the crowd. I craftily attached the ticket to the bottle of this Rolling Rock for a memento (see image below), which was refreshing after what had already been a good two hours of the show. Gary Louris from the Jayhawks, who were just added to Adam's Lost Highway label at the time, joined him for one of the encores. He came back to First Avenue in 2003, which became one of his other meltdowns, although I've heard claims of people enjoying this show because he was at least entertaining and weird. Apparently he started verbally attacking Paul Westerberg for some reason. I guess another meltdown happened at an outdoor show at the Walker Art Center when someone was yelling Summer of 69. Get it? His name is similar to another musician's name. Let's yell the other guy's songs out as a request! The audience will find me hilarious, and want to hang out with me after the show.