Peter Bjorn and John vs The Turtles or You Baby Young Folks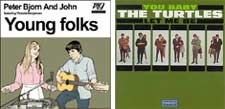 Young Folks
by Sweden's Peter Bjorn and John was to 2007, as Crazy
by Gnarls Barkley was to 2006 in the United States. The instantly recognizeable drumbeat, vocal stylings of guest performer Victoria Bergsman (formerly of The Concretes), and the infectious whistle used in the verse make it as sweet as a pouch of big league chew. I'm guessing The Turtles enjoyed this song, since they recorded something very similar in 1966 called You Baby.
The major similarities are the drumbeat and the melody of the verses. Even the beatlesque jangly guitar in You Baby is close to the whistling of Young Folks, which makes sense since it's just following the melody.
[audio:../wp-content/uploads/2007/11/you-baby-young-folks.mp3]
You Baby was written for The Turtles by P.F. Sloan and Steve Barri, who are also responsible for writing several other charting pop songs including Secret Agent Man
for Johnny Rivers. Sloan and Barri were also the masterminds behind the sixties group The Grass Roots, essentially writing the music and forming the band. Did you know that one of the original members of the Grass Roots, Creed Bratton, hilariously plays himself on NBC's The Office? You really should know these things.
Howard Kaylan and Mark Volman formed The Turtles in 1965 in Westchester, California. Taking a cue from The Byrds, they decided to cover one of Bob Dylan's songs It Ain't Me Babe
, and their version was the group's first hit charting at #8 in 1965. They had a slew of other hits including their signature song, Happy Together
, which was written by Garry Bonner and Alan Gordon and replaced Penny Lane as the #1 song in April of 1967. This song, which was their only number one, became one of the classic examples of feelgood 1960s American pop. The group disbanded in 1970, and in a surprising move, Kaylan and Volman became part of Frank Zappa's Mothers of Invention. Zappa even released his own version of Happy Together, which was kind of like doing a parody of a song that was already a parody of itself. Kaylan and Volman still tour today as The Turtles featuring Flo and Eddie.
Zappa and the Turtles:

Young Folks Video: