Bruno Mars vs The Police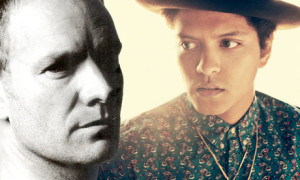 Bruno Mars has a new single out called Locked Out Of Heaven and it sounds like Don't Stand So Close To Me and Roxanne by The Police.
Sting is totally cool with it. He'll probably dress up like a priest and sing along like he did with Puff Daddy…I mean P Diddy…on Every Breath You Take.
Stewart Copeland, however, is furious and coming after you Bruno. Use your very large hat to become invisible.